Marco Pelusi's salon in the West Hollywood Design District has seen its fair share of famous tresses: actresses, models, and TV personalities head to the Pittsburgh native's hair haven for a brighter blonde, richer brunette or any number of multi-dimensional, healthy (with the help of his own collagen-fortified haircare collection) colors. We recently got the chance to chat up Pelusi about some of his high profile clients, the biggest mistake women make with their color, and what he loves most about being a bonafide hair guru.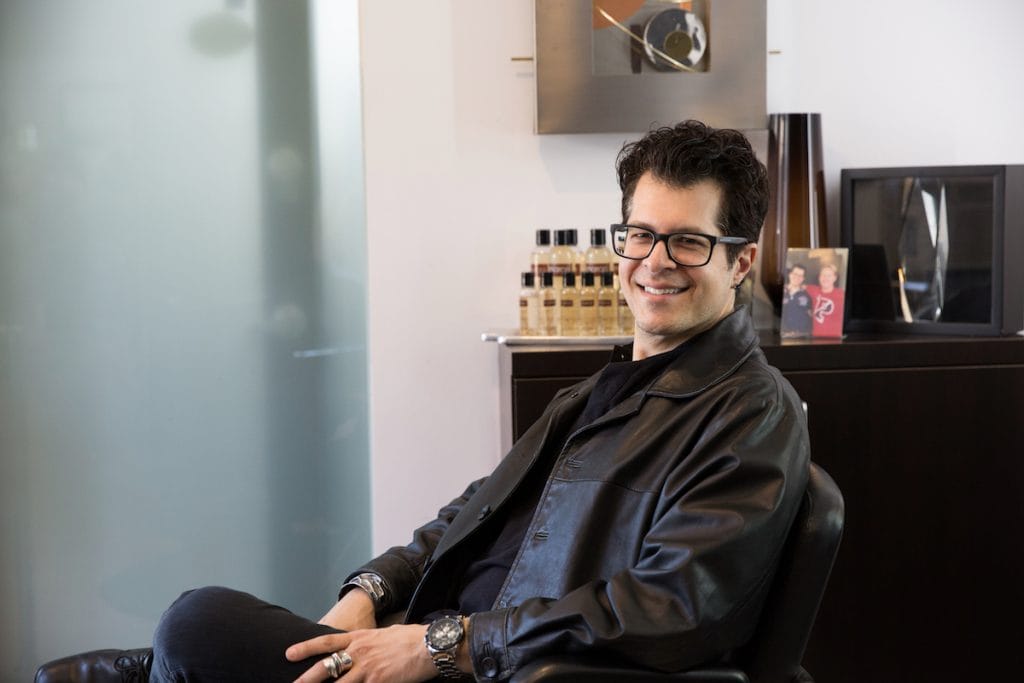 What's your earliest memory of having interest in the beauty realm?
My mom asked me to help style her hair one evening and she liked what I did. Also during my freshman year at Penn State, the gals I sang with in the choir wanted me to do theirs—I'm sure they all trusted me because they knew I had a talented hairstylist uncle with a chain of salons!
When was your biggest "made it" moment?
I think it was seeing my hair color work on Stacy Keibler on the cover of Maxim in 2008. That was pretty fantastic to have my work on a cover, especially with someone so famously beautiful.
You've worked with some high profile heads of hair. Anyone you can mention by name?
Yes I've been privileged to work with some amazing people. Some of the men who don't mind a mention are James Brolin and Carson Kressley. Jim is a legendary start for decades, and Carson is a celebrity stylist and TV fashion icon. Some of the women are supermodel and actress Carol Alt, with whom I've been on TV several times, and also The Young and The Restless star Tracey Bregman. Some I just can't mention here, but if you visit me for hair services at my studio I might divulge more!
You have your own line of hair care products with collagen. How did you that come about?
Marco Collagen Color Guard HairCare was born out of my love of hair color and of this industry. When I opened my salon, I didn't want to order with any of the manufacturers; I wanted to make my own products. I spoke with a long time family friend who happens to be a chemist and told him I wanted to do something to specifically preserve hair color. We both decided that collagen should be our leading ingredient and we included some form of it in each product to maintain the quality and integrity of color treated hair.
What's the biggest mistake women are making with their hair color? And what can they do to fix this?
The first mistake is coloring their hair at home with brown color and pulling it all the way through. This leaves the roots looking bright and hot and the ends dull and dark. It can be easily fixed by adding some highlights to brighten up the ends. Probably the second biggest mistake is wanting to make huge changes immediately with color, rather than going on a six-month plan to maintain the integrity of their hair. A client came to consult with me the other day and wanted to immediately go from being dark brunette to bright blonde. I told her we could begin lightning her slowly, gradually, naturally and eventually work her into blonde, while maintaining her hair. But she just wanted a quick fix. I hope that she can keep the hair on her head while she pursues that color! The better choice would be to go with someone who will keep your hair healthy while you make a color change.
Is there a current hair color trend you're loving right now and can you give any tips on trying it?
I am in love with a modified ombre, when the top of the hair is deeper and richer and gradually gets lighter and brighter through the ends. It's an easy way to try to change color because you can ask your hairstylist to add a few lighter pieces towards the last few inches of your hair and see how you like it!
What do you love about your location in the West Hollywood Design District? And what are some of your favorite neighborhood spots?
I always feel I am in the center of the universe being located on Robertson near Melrose. We are the epicenter of fashion. Our district and West Hollywood is a supportive, business-friendly area, who wouldn't love it? Craig's restaurant is perhaps my very favorite in the area, I also love Tortilla Republic. La Peer Hotel will open in the winter—only a block away!—and some of my favorite people are involved. My studio will be handling all of the beauty services there.
What's the most rewarding part of your job?
There's an instant gratification that occurs several times per day with my clients feeling better about themselves as they leave my salon. It's the relationships that mean everything: with my staff, with my clients, with the people who buy my products, and with my colleagues, family, and friends. I have so much to be grateful for inside and outside of my business.
Visit Marco Pelusi Hair Studio in the West Hollywood Design District at 636 N Robertson Blvd
Related posts