DIEM: TALKS DESIGN The Future is Now, curated by Mallery Roberts Morgan and Frances Anderton, takes place November 13 in the West Hollywood Design District.
Check out this year's lineup of panelists, and click below to register now!

---
Talk 1: "Is LA Losing Its Cool as it Becomes Cool?"
Nicolas is a founder and curator of Please Do Not Enter, a gallery and retail space of contemporary goods targeted towards progressive minds. Nicolas and his co-founder Emmanuel Renoird moved from France to Los Angeles to create their non-traditional retail space.
Ann writes about gender, politics and culture as a freelance journalist. She has recently published features in The New Republic, The Guardian, and The Gentlewoman. She is also a columnist for New York Magazine and a co-host of the podcast "Call Your Girlfriend." Every Friday, she sends out a popular newsletter.
Christopher has established himself as one of today's distinguished rug designers. After being exposed to pre-Colombian textiles while travelling in Peru, Chrisopher found his passion and transitioned from abstract painting to textile design. He learned the ancient techniques of designing and making rugs in Peru and Western Turkey and perfected the craft of textile art. Recently, he has designed a new rug collection with Commune, a Los Angeles based design studio.
Darren Gold, Owner, The Cultural Curator; @alphamanla
Darren is a cultural strategist who brings together the talents of a merchant, retail programmer, curator and trend expert. Darren is the founder of Alpha, one of the first lifestyle boutiques to enter West Hollywood and LA's first go-to emporium for men. Currently, he works as a retail and fashion consultant for diverse clients such as Brookfield Properties, The Malibu Pier, Intel, Lincoln, and Conde Nast. Darren also serves on the boards of West Hollywood Magazine and the West Hollywood Design District.
---
Talk 2: "Taste in Flux: What is Luxury to the Country's Biggest Demographic?"
Katherine Ross, Fashion Consultant
Katherine is a communications and branding consultant in the fashion and luxury market. She has consulted for entertainment organizations and luxury brands such as Balenciaga. She curates the ongoing Wear LACMA fundraising project for the Los Angeles County Museum of Art. Katherine began working in business development as an executive at Sotheby's and then transitioned into the fashion world working as Senior Vice President of Communications for Prada and a former executive at LVMH Moët Hennessy · Louis Vuitton.
Eric Vecchione, Director of Business Development, Uhuru Design; @uhurudesign
Eric is a designer with experience in the areas of project management, design and business development. Eric began working as a project manager and landscape designer. He currently oversees the growth and retail strategy of Uhuru Design, a growing multi-disciplinary design firm. Since joining Uhuru in 2012, the company has grown over 300% in size and revenue and was named this year as one of Inc Magazine's "5,000 Fastest Growing Companies."
Christiane is a design entrepreneur, Creative Director of DwellStudio and Executive Creative Director of Wayfair. Lemieux authored her first book Undecorate to critical acclaim in 2011, and is publishing her second book in the spring of 2016. She recently entered the television space as one of the judges on "Ellen's Design Challenge," a furniture design competition show on HGTV. Lemieux was recently selected as one of Fortune's 2012 "Most Powerful Women Entrepreneurs" and as one of New York Moves' "Power Women of 2015."
---
Talk 3: "Dog Day Afternoon"

Madeline is a leader in the Los Angeles design community and founder of Madeline Stuart & Associates. Her projects reflect a collaborative relationship between architecture and furniture, function and form, client and designer. Madeline Stuart & Associates has been featured in numerous publications including, Architectural Digest, Elle Decor, House & Garden, House Beautiful, Town & Country and Veranda. The firm's inclusion on Architectural Digest's list of the top 100 design and architecture firms led to its distinguishment. In 2010, the inaugural debut of Elle Décor's A-List featured Madeline as one of the leading 25 designers in the country.
---
Talk 4: "Forever Glam"

Beatrix Ost, Muse, Artist, Writer, Designer & Actress; @beatrixost
Beatrix worked as an accomplished sculptor and painter for years, just a few of her many talents. To name a few others, Ost is a writer, interior designer, director, and actress. She moved from her homeland in Germany to New York in 1975 where she was recognized for her dramatic personal style and flare. Her interest in the visual arts and fashion design is deeply rooted in her life. Recently, she has been the style muse for the Olsen Twins fashion line. Beatrix has also written the works My Father's House and More Than Everything.
---
Talk 5: "Tales of the City: New Lifestyles for the Less Young"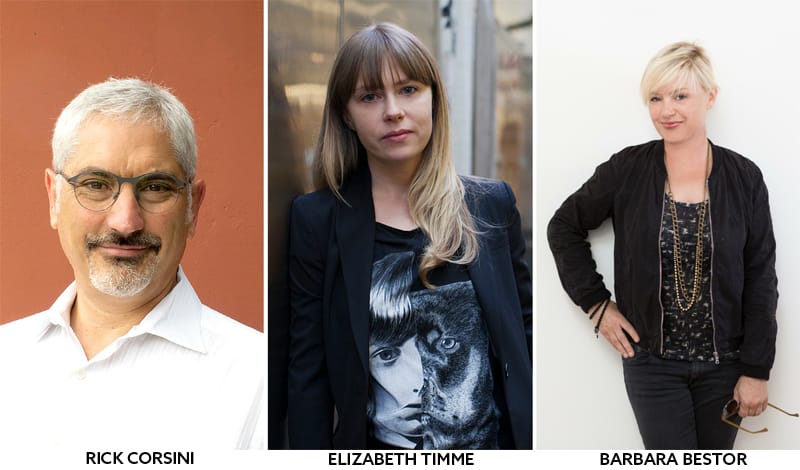 Rick brings over twenty years of professional experience to his leadership role at Corsini Stark Architects. His work has been published nationally and internationally, and the firm has recognition including design awards from the Los Angeles Business Council, Southern California Development Forum, and the Los Angeles Chapter of the AIA. In addition, he has held faculty appointments at schools of architecture including Cal Poly Pomona, Woodbury University, and most recently, the University of Southern California.
Elizabeth Timme, Co-Executive Director, LA-Más; @mas4la
Elizabeth is co-founder and co-executive director of LA-Más, a non-profit design firm that seeks to establish the potential for design-based outcomes in Los Angeles. Elizabeth focuses on projects that critically engage systematic problems and provide solutions based on research and community engagement. She also teaches at Woodbury University's Architecture & Civic Engagement (ACE) Center and serves on the Zoning Advisory Committee of Re:Code LA, a city-led effort to transform the city's outdated zoning code.
Barbara is a founder of Bestor Architecture, a firm working to redefine Los Angeles architecture through design, art, and urbanism. Some of her projects include Beats by Dre headquarters and Intelligentsia Café. Her architectural style explores form through experimentation, research, graphics and color. Bestor shares her talents as faculty at Woodbury University of Architecture and executive director of its Julius Shulman Insitute. Bestor is also the author of Bohemian Modern, Living in Silver Lake.
Ilaria Mazzoleni, Architect, Founder of IM Studio Milano/Los Angeles

Ilaria Mazzoleni is an architect, biomimicist, and the founder of IM Studio Milano/Los Angeles (www.imstudio.us). Her conceptual work has been published globally, and her built work can be found in Italy, California, and Ghana. Ilaria has gained attention in the fields of sustainable architecture and bio-inspired design. Ilaria is a founding member and designer of InHabitLA (www.imstudio.us/inhabitla/) a group working to develop a cohousing community in Los Angeles.
---
Talk 6: "Why Art?"
Carolina is a staff writer reporting on arts and culture to the Los Angeles Times. Prior to her work at the LA Times, she worked as a staff reporter for TIME Magazine and as an independent journalist, contributing to outlets such as NPR, ARTnews and ARCHITECT. She has covered everything from the urban design of Los Angeles to the cuisine scene of Lima Peru.
Stefan currently specializes as an art curator and consultant for public and private contemporary art. His work has resulted in supporting shows at countless institutions and galleries including Palais De Tokyo, Moca, Kunsthalle Zurich, Public Art Fund NYC, Museum of Contemporary Art in Rome and The Italian Cultural Institute. Stefan has produced 15 feature films, including titles such as the award winning Requiem for a Dream. He previously co-founded of MediaVast, a delivery platform for photographic imagery that was sold to Getty Images.
Stephen started his own legal practice specializing in entertainment and the arts. He represents fine artists, galleries, collectors and independent film producers. Stephen is a member of the California bar and the New York bar. He also writes as a regular columnist for the West Coast art magazine, "Artillery."
Related posts