DIEM: TALKS DESIGN 'Co-Everything', curated by Mallery Roberts Morgan and Frances Anderton, produced by Darren Gold, takes place November 11 in the West Hollywood Design District.
Check out this year's lineup of panelists, and click below to register now!
---
Curators: Mallery Roberts Morgan and Frances Anderton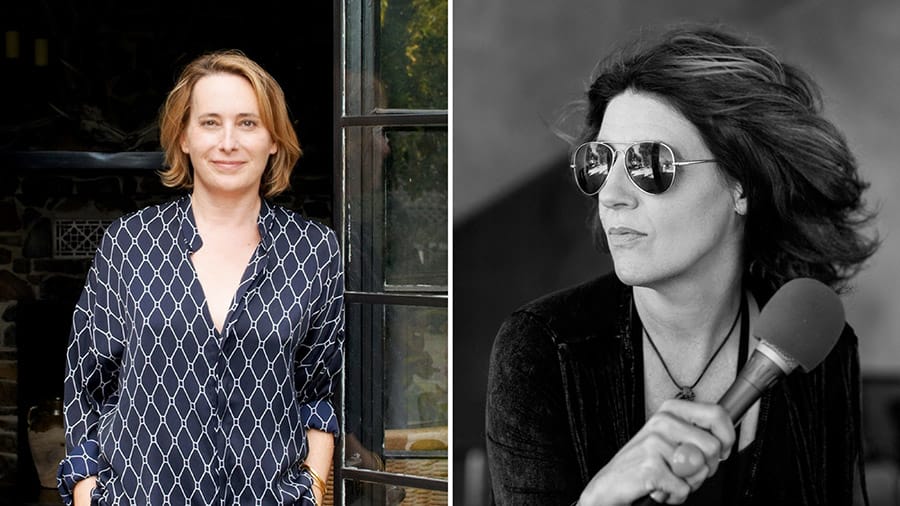 ---
Talk 1 – Communication: A Conversation with Eric Buterbaugh About Creative Branding
 Eric Buterbaugh, Owner, Eric Buterbaugh Florals, @ericbuterbaugh
Eric Buterbaugh is a world-renowned floral and fragrance designer with two decades of experience in the business of flower design.  As President and Creative Director of EB Florals by Eric Buterbaugh, he has applied his artistry and expertise to create a collection of scents, exclusively focused on floral scents.
---
Talk 2 – Co-Working: The Pros And Cons Of Sharing A Work Space
Zoe Latta, Designer, Eckhaus Latta
ECKHAUS LATTA is a bicoastal fashion label designed and executed by Mike Eckhaus and Zoe Latta. The two met while attending the Rhode Island School of Design, where they each earned a BFA; together in 2011, Mike and Zoe founded ECKHAUS LATTA. 
The Designers release collections bi­-annually during NYFW. In addition to their shows and presentations, Eckhaus Latta has also exhibited projects, videos and collections with the following institutions: the 55th Venice Biennale, Kraupa-­Tuskany Zeidler Gallery, Gavin Brown's Enterprise, The New Museum,  The Museum of Art and Design, Galerie Isabella Bortolozzi, MOCA, MoMA PS1 and The Hammer Museum.
Ashley Sumner, Partner & COO, One Roof, @ashleyjsumner
Ashley Sumner has built her career on making meaningful connections and creating safe spaces and communities for people to grow and feel vulnerable in. She started her career in the matchmaking space, ultimately running her own brand and focusing on the ways in which people connect in small, intentional groups. Most recently she was the Director of Community Development at Wanderlust, and is now a partner in One Roof, a platform for female entrepreneurs.
Lauren Urband, Founder & President, THE CONSULTANCY PR, @theconsultancypr
Lauren Urband runs the Los Angeles-based strategic communications practice specializing in image development, brand positioning, creative consulting, partnerships/collaborations, marketing and social media. During her 15-year career, Lauren has worked with global brands and start-ups across luxury and mass-market categories, including home and design, fashion, hospitality, beauty, tech, publishing, consumer products and personalities.
Ava Bromberg, Maker City LA @ The Reef, @makercityla
Ava Bromberg builds creative habitats. Since 2010, she has spearheaded new real estate business development undertaken by Los Angeles based private equity firm Kanon Ventures, from the concept stage through leasing and marketing. Ava brings a unique approach to adding value to real estate, which is informed by a deep understanding of the creative economy, the importance of community building, and emerging cultural trends. Ava managed the redevelopment and leasing of Kanon's Atwater Crossing, a 100,000 sf creative office complex in the Atwater Village neighborhood of Los Angeles. She also managed the transformation of the LA Mart building, an 860,000 square foot building in downtown Los Angeles into The Reef: A Creative Habitat.
---
Talk 3 – Co-munnity: Stories From The Frontlines of Social Media

Michelle Plantan, Director of Social Media & Content Strategy, Clique Media, @obsessee + @plantan
Michelle Plantan is the executive director of strategy at Clique Media Group, where she focuses on uniting cross-functional teams to build creative, best-in-class content for WhoWhatWear.com, MyDomaine.com, Byrdie.com, and @Obsessee readers, wherever they may encounter the brands.  Prior to this role, she headed up CMG's social media department and was a founding director for Obsessee, CMG's social media–only resource for Gen-Z females.
Ben Medansky, Ceramicist, @benmedansky
Ben Medansky is an orchestrator of controlled chaos, a sculptor of hard edges in naturalistic worlds, a refiner of industrial aesthetics that retain rough and human qualities. Ben Medansky is a ceramicist.
4 Tweens
Musical-ly?
So yesterday. Facebook? What's that? Instagram?
Sometimes. Snapchat? Duh! Want to know what's hot in social media? Ask a tween. Three sassy 12 year-olds offer up a video-lecture on what's now in
networking.
---
Talk 4 – Co-mmerce: Is LA Art An Industry, Yet? 
 
Aaron Axelrod, Artist, @theaxelrod
Influenced heavily by children's' fairy tales, psychedelia, and the occult; Axelrod is known for his unique use of the spectacle & aesthetic choices; inspired by Dr. Seuss, Walt Disney, donuts, and astrophysics. A practitioner of vast disciplines, Axelrod's work has been displayed in galleries, museums and public spaces in cities across the country, most recently mounting a major survey retrospective at Barnsdall Art Park in conjunction with the city of Los Angeles, the first time in its history it ever allowed one artist to take over its entire campus.
Bettina Korek is an American arts advocate, writer, and the founder of ForYourArt, a public practice organization based in Los Angeles. ForYourArt serves as a platform to produce and distribute artists' work. Korek is also a member of the Los Angeles County Arts Commission.
Rosamund Felsen, Owner, Rosamund Felsen Gallery
Rosamund Felsen Gallery opened in 1978 on North La Cienega Boulevard in Los Angeles. It has operated since, in West Hollywood, at Bergamot Station in Santa Monica and in the Downtown L.A. Arts District. Recently, the gallery office has relocated to Glendale, California. Maintaining a primary focus on L.A. artists, the gallery has represented in the past: Chris Burden, Mike Kelley, Paul McCarthy and Mary Kelly, Lari Pittman and Richard Jackson.
Alberto Cuadros, Artist, Organizer & Gallery Director, SADE Gallery, @sade_la
Alberto Cuadros is a Los Angeles based artist/organizer and co-founder/director of SADE Gallery.
---
Talk 5 – Co-nnection: Collective Experience Through Programming 
Darren Gold, Cultural Creative and Curator, @darrgold
Darren Gold brings together all the talents of a cultural strategist, merchant, marketer, curator, and trend expert. Darren founded Alpha, LA's first go-to emporium for men, with a chicly curated offering of gifts, gadgets and garb. Currently, Darren is sought after for his expertise as a consultant, with a diverse list of clients that includes, Brookfield Properties, The Malibu Pier, Intel, Lincoln, and Conde Nast.
Patrick Shearn, CEO & Creative Director, Poetic Kinetics, @poetickinetics
Patrick Shearn transitioned from his 30 year career in film as a creature maker and visual effects supervisor to start Poetic Kinetics as CEO and Creative Director. The same passion, imagination and ingenuity that were integral to his film industry success have also fueled an expansive set of non-film related and personal artistic endeavors in sculpting, writing, theatrical and event production.
Chris Danton, Head of Creative Strategy, IN GOOD CO, @instagoodcompany
Head of Creative Strategy for IN GOOD CO, a culture conscious strategic and creative brand consultancy. A creative strategist and marketer with 10 years of creative and design expertise, focused on brand experiences that create truly meaningful connections between brands and their consumers. Hilton, Glass, Refinery 29, Google, Nike, Uniqlo, and Murad are some of the brands where Christina has made an impact.
Liza Cantu, National Marketing Director, Westfield Mall Retail, @retailpop
Liza brings together the worlds of marketing, digital, branding and business development to create retail that resonates. As the National Marketing Director for Westfield Mall Retail, Liza oversees the marketing, digital and merchandising strategies for pop up and short-term activations across the portfolio's 32 centers, including Westfield World Trade Center. She frequently writes on trends including 'click-to- brick' and multi-channel retail for the Westfield POP blog.
Mark Rios, Founding Partner, Rios Clementi Hale Studio, @rchstudios
Formally trained in both architecture and landscape architecture, Mark Rios, FAIA, FASLA, has long seen those two disciplines as inseparable. He founded Rios Associates in 1985 with a singular vision: to imagine, design, and build complete environments. Mark's eclectic interests and ability to see things from multiple perspectives propelled the firm beyond the borders of architecture and landscape architecture to incorporate interior design, graphic design, product design, branding, and urban planning.
Andrew Stevens, We Came in Peace, @wecameinpeace
Andrew Stevens is the Creative Director and Co-Founder of We Came In Peace, a multi-disciplinary design studio that creates fully immersive, highly engaging environments for hotels, restaurants, retail,  residences and events. In the 7 years since the company's inception, We Came In Peace has created environments and experiential campaigns for brands such as Spotify, TD Bank, Lincoln Motor Company, Lexus, Mr. Porter, Virgin Mobile, Interview Magazine, LVMH, Nike, Porsche and Starwood Hotels, as well as smaller emerging brands and non-profit organizations. Andrew's ultimate goal for We Came Peace is the creation of unforgettable moments in people's lives – from parties of epic proportion to provocative works of art powered by human interaction.
---
Talk 6 – Co-llaboration: Making Shelter Magic: War Stories From The Field With Mayer Rus and Michael Reynolds
Mayer Rus, West Coast Editor, Architectural Digest, @archdigest
Mayer Rus is the West Coast Editor of Architectural Digest. He has been a prominent design critic, writer, and lecturer for the past 25 years. Prior to joining Architectural Digest, he was the Design & Culture Editor of the Los Angeles Times Magazine. He moved to California in 2007 from New York, where he was the Design Editor of Conde Nast's House & Garden and the author of its popular Testy Tastemaker column. He lives in Silver Lake with his dog, Linus.
Michael Reynolds, Design Editor, Interiors Editor, Style Editor, Stylist & Freelance Creative Director, @michaelreynoldsnyc
Michael Reynolds is a New York-based creative director who works across many disciplines
 and media as an editorial stylist, exhibition and
 set designer, advertising director, curator and visual brand consultant and book editor. His services have been enlisted by a wide range of high-profile clients, including Calvin Klein Home and Fragrance, Herman Miller, Vera Wang, Aerin Lauder, and many of the world's leading design, fashion and art publications.
Related posts