LECLAIREUR, the French fashion and design mainstay from Armand and Martine Hadida, has forged its way from their four stores in Paris, all the way across the pond to its first U.S. location in West Hollywood helmed by the Hadidas' daughter Meryl.
Since LECLAIREUR was founded in 1980, Meryl has always been immersed in the fashion world surrounding her, being exposed to designers like Commes des Garcons, Ann Demeulemeester and Dries Van Noten (although she admits to having a feminine style in L.A, dominated by a mainly white color palette that is decidedly non-Parisian), but with this new venture outside of Paris, the focus is now on interior design and furniture rather than fashion.
Before moving from Paris to Los Angeles two years ago, Meryl's childhood and teen years were informed by her parents' showroom appointments and temporary jobs at the LECLAIREUR locations in France, where she developed the same keen eye, that she chose to focus on design in L.A.
"I observed the direction the city was taking when I arrived in L.A.: art galleries opening everywhere, artists moving here, museums growing like mushrooms," Meryl said. "I thought that an interior design gallery with very rare pieces, one of a kind and custom made items, would be the right fit."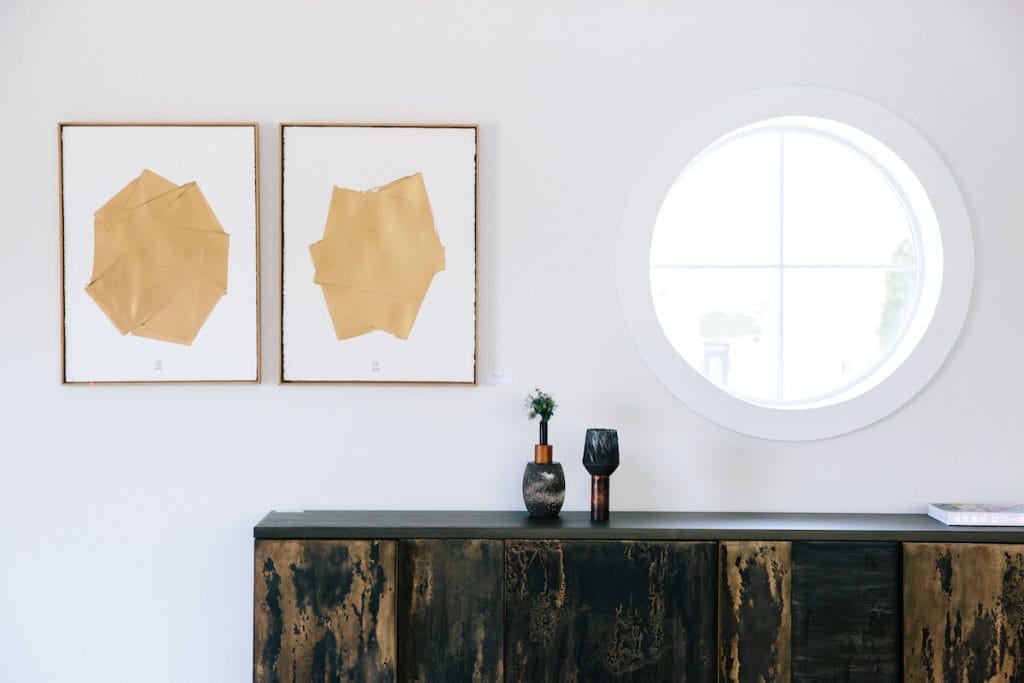 Located on Robertson Boulevard in celebrity florist David Jones' repurposed former home, LECLAIREUR's "Residence" is a beautifully curated and shoppable gallery with both one-of-a-kind and rare finds to more affordable home accent pieces for the discerning shopper. It has also been stripped down to be a multipurpose space for everything from art exhibits, sought-after fashion lines ("We represent three clothing lines, and intend to keep it that way!"), and an exquisite private event space on the top floor.
The goal and mission of the new Los Angeles design residence: to surprise design-impassioned customers with artful collector's pieces that likely have not been seen elsewhere, and above all to welcome everyone to experience such rare finds while not becoming defined and restricted by a single concept.
The current show still on exhibition is Pierre Bonnefille's "Meditations," a collection of paintings and furniture pieces worked only with bronze minerals on metallic mesh.
For more from LECLAIREUR, visit http://www.leclaireur.com/ and follow @LECLAIREUR on Instagram.
Related posts