West Hollywood Design District businesses will be celebrating alongside the first annual Frieze Los Angeles contemporary art fair February 15-17, 2019. Frieze Los Angeles 2019 will bring together 70 of the most significant and forward-thinking contemporary galleries from across the city and around the world, alongside a curated program of conversations, site-specific artists' projects and film. Learn more at frieze.com
Frieze Week & Ongoing Activations in the Design District
Leclaireur
Oliver Peoples will host "Who is Oliver?," an exhibit curated by artist & photographer Tasya van Ree featuring a series of portraits in honor of Frieze. Exhibit is invitation only. For more information contact info@eclatpublicrelations.com
Details: Wednesday, February 13, 450 N Robertson Boulevard
MOCA Pacific Design Center
On view through February 24, 2019, MOCA Pacific Design Center presents One Day at a Time: Kahlil Joseph's Fly Paper, a companion exhibition to One Day at a Time: Manny Farber and Termite Art currently on view at MOCA Grand Avenue, featuring Joseph's recent film Fly Paper
(2017).
Details: Now through February 24, 11 a.m. – 5 p.m. (open until 6 p.m. on Saturday and Sundays), 8687 Melrose Avenue
West Hollywood Design District Block Party
The West Hollywood Design District will be hosting a block party on Melrose Avenue featuring:
special exhibits
live events
Synergy Organic Kombucha Truck
Art work by Mr. Brainwash will be on display
See more below
Details: February 16, 12 p.m. – 5 p.m., Melrose Avenue between San Vicente and Norwich.
Art After Dark at La Peer Hotel
The celebration will continue with Art After Dark at La Peer Hotel with live paintings and prints signing by Risk, Robert Vargas, Lionel Deluy, Billy Zane, Val Kilmer, James Peter Henry, and Andre Haagen. There will also be limited edition furniture by Gulla Jonsdottir and canapes & cocktails from Viale dei Romani, Cecconi's, Craig's, and Gracias Madre.
We are very fortunate to have an incredible line up of artists:
Risk – godfather of West Coast Graffiti – showcasing a custom painted 1970's Rolls Royce Silver Shadow
Blek le Rat – godfather of stencil art and Banksy's mentor
Robert Vargas – currently painting the world's largest mural by a single artist in downtown Los Angeles
Val Kilmer- actor/artist
Billy Zane – actor/artist
Lionel Deluy – celebrity photographer
Andrew Haagen – celebrity photographer
James Peter Henry – artist featured in Viale Dei Romani within the La Peer hotel
Limited edition furniture by Gulla Jonsdottir
Opportunity to have limited edition prints signed by some of the artists in attendance
Details: Saturday, February 16, 5 p.m. – 8 p.m., 633 N. La Peer Drive
To RSVP for the Art After Dark cocktail event, please email Atelier@Gullajonsdottir.com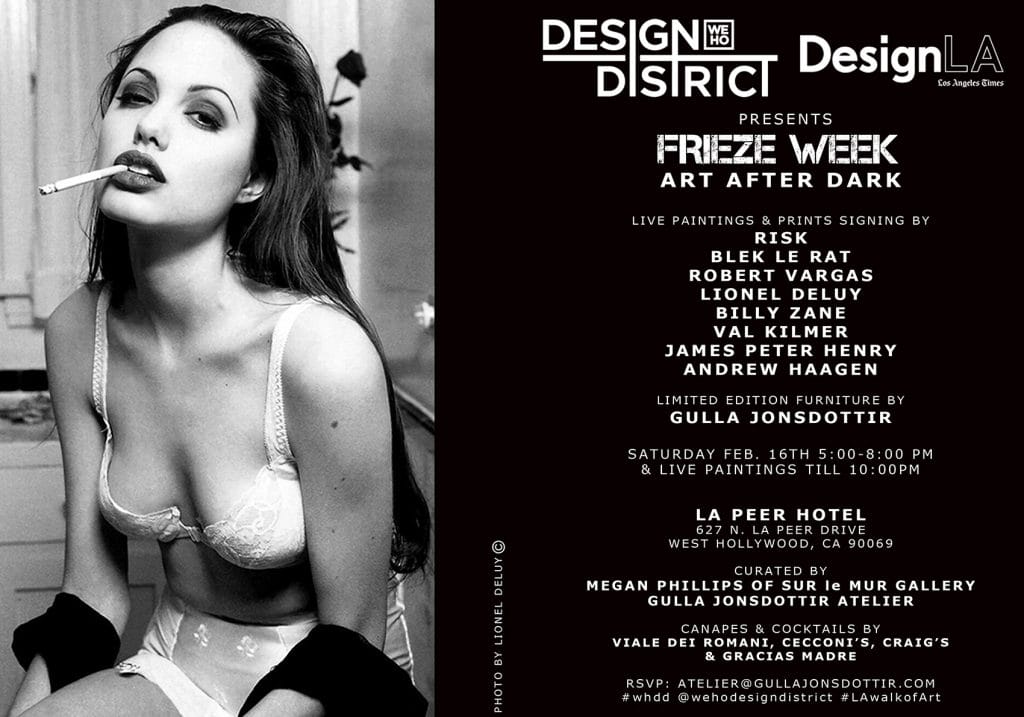 Denenberg Fine Arts
Denenberg Fine Arts will open the doors to its private gallery to the public on February 16 for the exhibition of contemporary artist Valerie von Sobel. A sculptor, legendary designer, and fashion icon, Sobel will also sign her most recent book, ""American Originals/Creative Interiors," photographs by William Abranowicz, New York and London.
Details: February 16, 417 N. San Vicente Boulevard
Gracias Madre
Relax after a day of stimulating your mind with a Purista Margarita from Gracias Madre. Present your Frieze ticket on February 16 to receive your free cocktail.
Details: February 16, 10 a.m. – 1 p.m., 8905 Melrose Avenue
Hamilton-Selway Fine Art
Hamilton-Selway Fine Art and the Whitney Museum's acclaimed Retrospective "Andy Warhol—From A to B and Back again" will launch "Andy Warhol—Three Decades of Fame" during Frieze LA. The exhibition will run from February 16 to March 8.
Details: February 16, 12 p.m. – 5 p.m., 8678 Melrose Avenue
Knoll
Knoll will have an artist meet-and-greet with Renee Torres of Mojave Art, showcasing her new photography on display in the showroom. Starting on January 16th, you can also take advantage of their Classic Sale for 15% off and free shipping.
Details: February 16, 10 a.m. – 6 p.m., 314 N. Robertson Boulevard
LeadApron
Three Star Books will have the book, "The Artist is Everything" on sale at LeadApron.
Details: February 16, 12 p.m. – 5 p.m., 554 Huntley Drive
Leclaireur
Leclaireur Los Angeles will be celebrating Frieze with an aperitivo to celebrate the unveiling artist & sculpture Ben Medansky's large-scale sculpture "Stacks." For more information, email: info@eclatpublicrelations.com.
Details: February 16, 4 p.m. – 6 p.m., 450 N Robertson Boulevard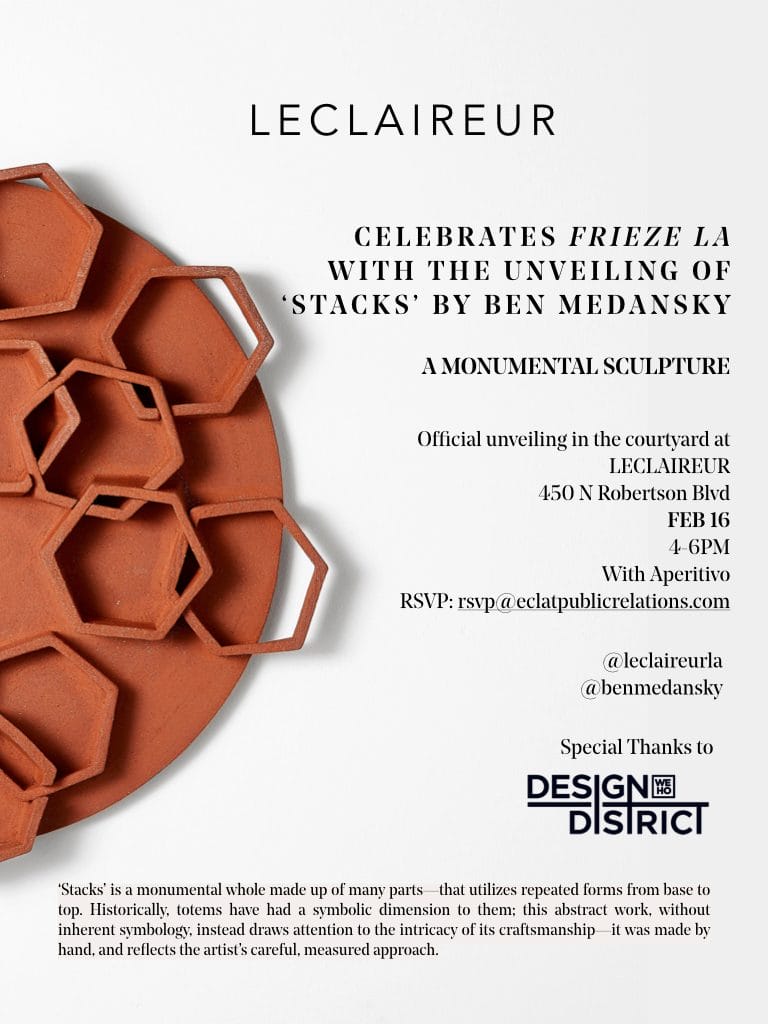 Retrospecs
Retrospecs will have two collections on display: Karin Katt: A Mini RetroSpecs-tiveand The Art of Color: 1970-1980 Rare Christian Dior Frames.
Details: February 16, 12 p.m. – 5 p.m., 555 Norwich Drive
Robert Kuo
The Mad Hatter Tea Party by Valerie Confections will happen at Robert Kuo from 12 p.m. – 5 p.m. There will also be a book sale and signing by Valerie Von Sobel from 2 p.m. – 4 p.m. William Abranowicz's "American Originals." The Marcel Waffle Truck will also be on-site.
Details: February 16, 8686 Melrose Avenue
Soolip
Soolip will host a Calligraphy demostration with Kathy Tanabe of Heart and Soul Lettering, a Vinyasa Flow Yoga Class with Debbie Lash, free Cryo Facials, Norma Tech, Thera Gun experiences from BR Cryo, and the Yogaland the Experiential Boardgame for the Yoga Enthusiast.
Details: February 16, 12 p.m. – 5 p.m, 555 Norwich Drive
Woven
Rugs by Woven will be on display outdoors for a special yoga experience. The In-N-Out Burger Truck will also be on-site.
Details: February 16, 12 p.m. – 5 p.m., 8674 Melrose Avenue
Related posts