This year we're excited to partner with the WestEdge Design Fair happening October 19-22 down the street in Santa Monica!
WestEdge features the latest products and design inspiration from 150+ premium furnishings brands. Design seminars and exhibitions, culinary demonstrations, book signings and special events, including an opening night party to benefit Los Angeles Ronald McDonald, round out the experience—all in an environment that will engage, entertain and inspire you.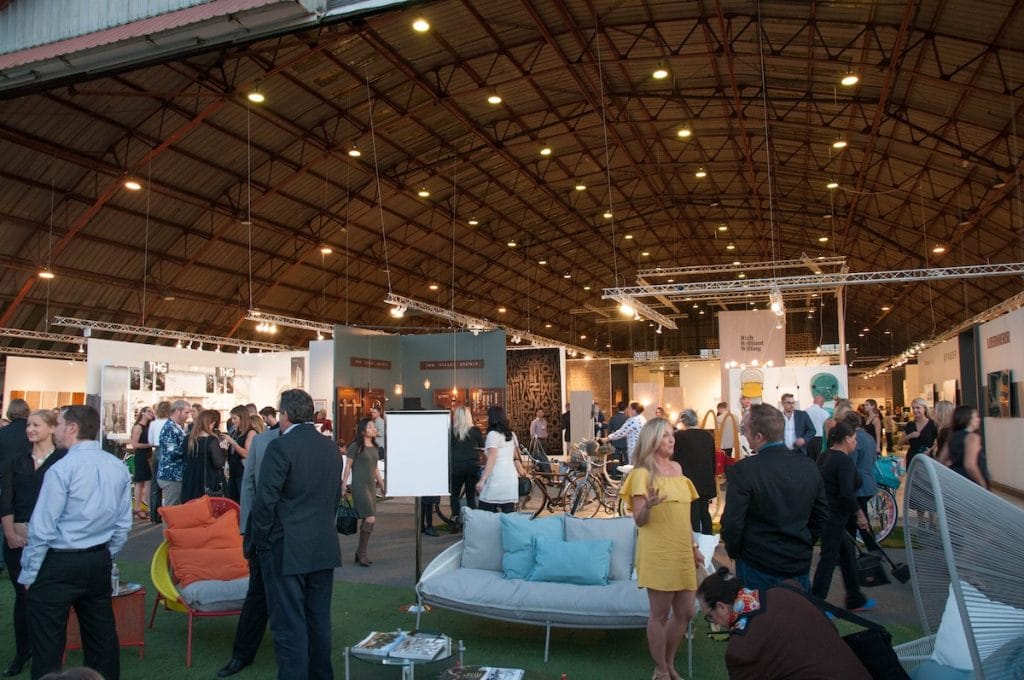 "LA has seen extraordinary growth within the design, architecture, art, fashion and culinary industries over the past 10 years and the desire for great design is only increasing." says co-founder, Troy Hanson. "There is no denying that LA is now the focus of attention within these categories for the trade, press and design-savvy consumers and we're fortunate to drive the conversation forward through all that WestEdge offers."
More than 40 new exhibitors will join the fair in 2017, highlighted by brands such as Koncept, Foscarini, M2L, Neutra Furniture Collection by VS America, Croft House, PELLE, Brizo, TRUE Residential, Monogram, Fyrn, Juniper House (which represents the globe's leading exterior furnishings brand) and dozens more.
"We're proud to see the level of participation grow year over year, and the fact that more organizations and companies want to be a part of WestEdge is a testament to our longevity in LA and the broader West Coast market" said co-founder, Megan Reilly. "Our ability to support, both established brands and emerging brands as they build and grow their businesses is what makes us most proud as we celebrate our fifth year in 2017."
And this year, DIEM Talks Design comes to WestEdge on Friday, October 20. Curated by Frances Anderton and Mallery Roberts Morgan, and presented in partnership the West Hollywood Design District, this symposium explores the theme: "EVERYTHING IS DISRUPTED." Here's the full schedule:
10:30-11:30 AM
Shaky Ground: The Shifting Cityscape of Los Angeles
There is a struggle for the soul of LA over growth. Does it threaten the architectural creativity that has made LA famous? DIEM opens with a conversation between Frances Anderton and Michael Maltzan, architect of many pivotal LA projects including the Sixth Street Viaduct Replacement Project and One Santa Fe, and editor of No More Play: Conversations on Urban Speculation in Los Angeles and Beyond.
Moderated by: Frances Anderton, KCRW
Featuring: Michael Maltzan, Michael Maltzan Architecture
11:45 AM-12:45 PM
The Great Retail Revolution
Despite ongoing retail shake-ups, and the meltdown of malls and main street shops nationwide, inventive shopping destinations are cropping up in Socal. Hear more from their creators.
Moderated by: Mallery Roberts Morgan, AD France and LALA Magazine
Featuring: Rose Apodaca, A+R; David Fishbein and Joseph Miller, Runyon Group; and Anna Brockway, Chairish and DECASO
1:45-2:45 PM
The Green Rush: Is High Design Taking The Edge Off Marijuana?
Design is entering the picture as Cannabusiness seeks to shed its hippy image. Do we want to get our hit in shops that resemble coffee bars or eyeglass stores? Who's driving the new look and feel of marijuana marketing?
Moderated by: Mayer Rus, Architectural Digest
Featuring: Alex Halperin, Weedweek and L.A. Weekly; and Megan Stone, The High Road Design Studio
3:00-4:00 PM
Hot Wheels: The Transportation Revolution
From the streets to the skies, mobility is being reimagined. But how much are smart ideas improving mobility in LA right now? We'll talk about the transit revolution taking place in the city that the car built, the great disruptors behind it, and how city-makers turn the imaginary into reality.
Moderated by: Frances Anderton, KCRW
Featuring: Ashley Z. Hand, LA CoMotion; Francie Stefan, City of Santa Monica; and Daniel Sturges, College for Creative Studies (Detroit Michigan)
4:15-5:00 PM
Riding the Wave – Tools For Managing Disruption
When disruption is the new normal how do you stay ahead of the game – or at the least stay in it? A conversation about managing massive change.
Moderated by: Mallery Roberts Morgan, AD France and LALA Magazine
Featuring: Suze Yalof Schwartz, Unplug Meditation
5:00-6:00 PM
DIEM Champagne Reception
Make plans to join the design community at WestEdge 2017 by registering HERE.
Related posts